Digital Gas Transmitter for Continuous Monitoring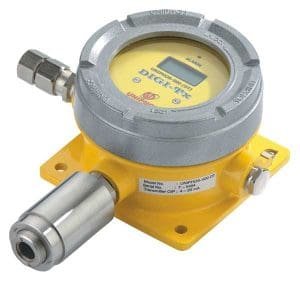 A large number of industrial processes and projects result in the potential for toxic gases to become a hazard. Whether you need to monitor concentrations to ensure they don't exceed acceptable safety parameters, or need to check the presence or absence of a toxic gas at a particularly vulnerable location, suitably reliable monitoring equipment is essential. We offer a dependable, proven solution – digital gas sensors that are able to detect even small concentrations of gas accurately and rapidly.
Gas Detectors and Sensors with Some Hi-Tech Features
Our gas detectors benefit from a range of advanced components and design attributes, putting them at the forefront of the market. Highly functional, each gas detector is built to a high standard from durable materials. Constructed to last, it is capable of high performance even in a tough environment. Versatile enough to be used with cutting-edge systems as well as more traditional set-ups, our gas detectors offer an adaptable solution wherever monitoring is required.
Established Provider of Gas Detection Systems
Because we are a niche provider operating in a technical market, we are able to offer products that have been developed to meet the needs of our clients. We understand the constraints and challenges which our customers face, which is why our gas transmitter systems are designed to require minimal maintenance at the same time as delivering consistently high-quality data in a user-friendly format.
Digital Gas Controller Enhances Safety
Safety is at the heart of what we do – each device we offer is made with safety as a priority. Not only does our range give you a straight-forward, high-grade solution to your gas monitoring requirements, we also price competitively and offer on-going customer care as and when required. With years of experience behind us, we are proud of our reputation for performance and value. To find out more, call us at (844) 247-0450.