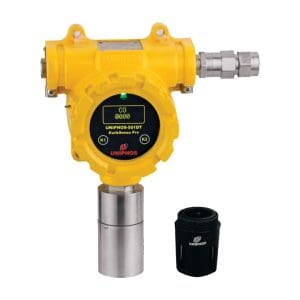 The Uniphos KwikSense Smart Digital Gas Transmitter is a field-mounted device for the detection and continuous monitoring of hazardous gases. This universal gas transmitter features:
Swappable plug-n-play smart sensor technology, capable of swapping between any sensor technology including Pellistor, Electrochemical, NDIR and PID
Smart sensors are available for more than 25 gases, including oxygen, toxic gases, combustible gases and volatile organic compounds (VOCs).
Outputs include industry standard analog 4-20 mA with digital communication on MODBUS over RS-485
Different models available based on user application
Note: the KwikSense Smart Digital Gas Transmitter has IECEx certification. IECEx provides an internationally accepted means of proving compliance. The unit is not yet certified to UL or any other US specific standards, but the international standard allows for installation of the unit in the US.
For more information, please review our KwikSense brochure